Lupa Fashion House, the only Canadian Fashion House of shearlings, specializes in creating unique shearling products based on one-of-a-kind design and made entirely by hands.
LUPA
Fasion House
Lupa Fashion House of Shearling
Although Lupa Fashion House yearly produces single collection of several lines for its Boutique, Lupa's Atelier creates most exquisite single pieces, designed and made to measure for one person only.
All Lupa's lust worthy natural products are manufactured in Toronto, Canada, under Registered Trade Mark "LUSTA", creating only the best for those who demand the best.
Its tenth anniversary Lupa Fashion House celebrated with the opening of the Fashion Mansion ™ in one of the oldest and famous places in Toronto.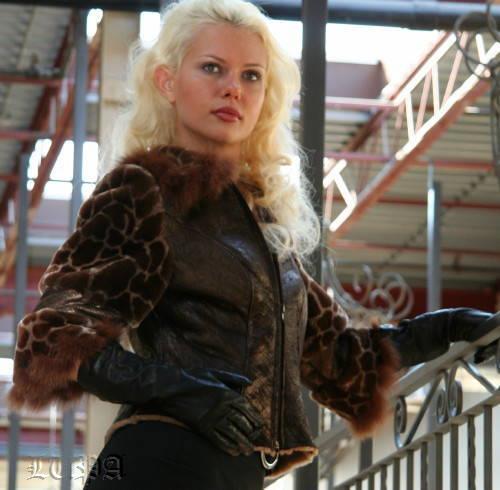 La Boheme
Wild Strawberry
Sports-elegant sheepskin jacket with zippered closure and front patch pockets. Exotic print on shearling and "croco" leather trim.

Savanna
Bohemian shearling vest with fur closure and Toscana trim for special ladies.

Custom made elegant long shearling coat with belt and patch pockets showing both sides of skin.
Front hand crafted buttons closure. Gentelmen prefer made-to-measure.
Alaska

Caveman Warrior
The Fashion Mansion™ hosts the Lupa's creative soul : the Boutique, the Atelier, Design Studio, haute couture workshop, private museum, library and the Club-House which was authentically recreated (by Veritas Homes) and is a truly masterpiece.
Unique multi-purpose sheepskin pullover with both sides of skin combination, hand painted shearling inserts and trim.
Reliable in harsh weather.
Reversible shearling coat with refined colours and texture combination, front zippered closure and Toscana trim.

Joyous shearling jacket with Toscana sleeves, collar and trim on front pockets.
Warm and comfy.
Rhapsody
Hunter
Sophisticated and seductive bolero style Toscana sheepskin jacket with shearling inserts that warms the body and the soul.


Girl's hooded shearling coat with Toscana fur trimmed hood and cuffs.
Just for princesses.
Close-fitting sheepskin winter coat with hood and front button closure, trimmed with Mongolian curly lamb. Leopard print on reverse.
Old school muse on new school way.


Hunter
Long sheepskin jacket inspired by nature crafted in mixed skins and inserted panels. Toscana collar.



Two-colour shearling jacket, hypnotic intarcia with striking details
and combination of both sides of skin.
Matching coquet shearling Intarcia beret completes the look
with confidence and grace.

Smart shearling jacket for dog with Toscana trim on collar and cuffs and zippered closure on the back.
Romeo
Pretty
Very pretty shearling attire with Toscana trim for small four-legged friends.
Rhapsody
Ladies custom made long shearling coat of your dreams with fox fur closure, collar and cuffs.
Exquisite shearling coat with refined colours and texture combination. Toscana trim. Reversible in spectacular way transforming look beyond recognition.
Rime
Rime
Fitted shearling coat with Toscana collar and cuffs, hand made buckles front closure. The elegant way to get ahead of the cold.
Kitty Bow
Handcrafted
shearling bow
decorated
with metal brooch.
La
Boheme

Vivid shearling jacket showing both sides of disstressed skin. Front zipper closure. Hand made buckle on the collar. Matching hat Edda with Toscana trim increases the charm.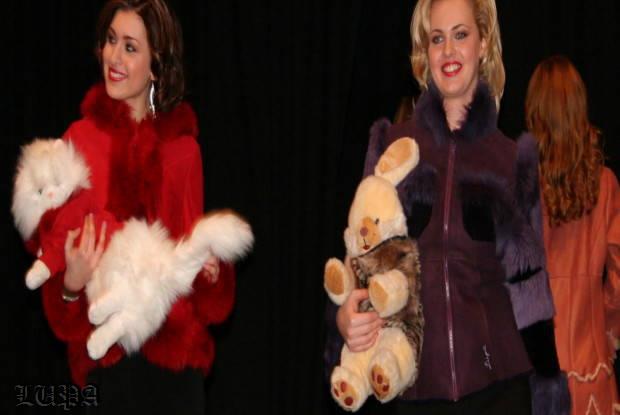 Crimson Spell
Milady
Toscana shearling waistcoat with inserted panels of printed shearling and bow-strings front closure. Matching Toscana scarf crafted in the same key to slip on. Beautiful additions to any attire.


Hooded scarlet shearling jacket with fur closure and Toscana sleeves, hood and hem trim.

Featherweight shearling jacket, playful yet elegant, with dual colour combination. Intricate print and spiral fur trim. Sheapskin bliss.
Joyous shearling jacket with Toscana sleeves, collar and trim on front pockets. Warm and comfy.
Randez-vous
Wild Strawberry
Fire on the Snow
Milady
Milady
Pink Panther